Sprint USA Galaxy S II owners effectively named as Epic 4G Touch SPH-D710 are now seeding the much needed Android 4.1 Jelly Bean update. So starting today, Galaxy S II Epic 4G users will see the availability of updates on their device. This update will bring the Android 4.1 Jelly Bean including the Google Now integration and the lock screen widgets with expandable notifications. Additionally Samsung has included the bunch of software features which is packed in newer Samsung Galaxy S3.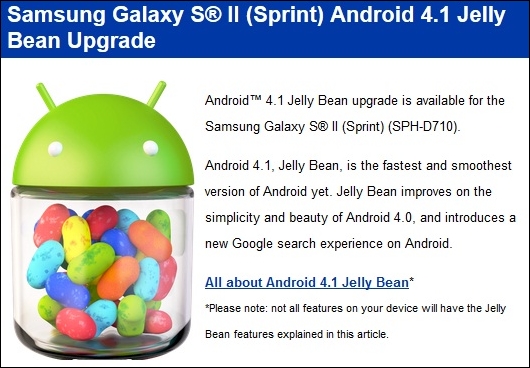 This update is not by the usual method of via Over the Air but this has been delivered to Sprint customers via Over-the-wire update. This will breathe in a new life to the device.
The following are the improvements & enhancements included in the update –
Smart Stay: Your phone easily tracks the eye movements ensuring that device are always ON.
Direct Call: Convert your text message interface to voice call interface by raising your phone to ear.
Pop Up Play: New feature in Samsung Galaxy phones, allows you to watch video content while running up any other applications.
Easy Mode: This mode automatically populates all of your favorite settings, apps, contacts in easy way to understand even for the first time users.
Blocking mode
Power Saving Mode
How to Update
As of now these update is been rolled out by two options, which are –
Simple Upgrade Tool for Windows PCs: You can update your Samsung Galaxy S II via Simple Upgrade Tool as well. The instructions are mentioned here.
Via Samsung KIES for Windows & Mac PCs: This update can be brought into act by connecting your phone to Mac & Windows Phone via the official Samsung PC tool called Samsung KIES. The instructions are mentioned here.
Via