With Mobile World Congress is just about few days from now, race for the strongest contender is ON. A lot many of the flagship smartphones well be launch and don't forget the recently launched HTC One and Optimus G Pro will be the smartphones to watch. The device is for those who want to get the 4G LTE power by buying low budget phone.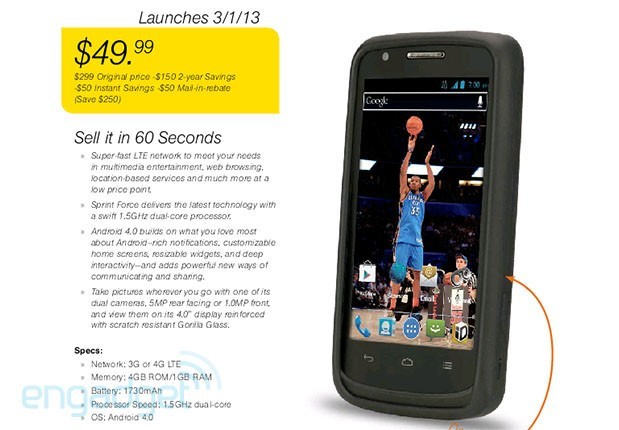 ZTE Force
Going through the specifications of ZTE Force, it's equipped with 4 inches capacitive display with multi touch support providing a mediocre 800 x 480 pixels resolution. It will be powered with 1.5 Ghz dual core processor along with 1 Gb RAM and includes the 4G LTE chipset. Device includes dual camera with front one standing at 1 mega pixel and rear side with 5 mega pixel providing 720p HD video recording capabilities.
There is 4 GB internal memory out of which only 3.6 Gb can be used for storage along with a micro SD card slot supporting 32 GB micro SD card. It comes with Android 4.0 Ice Cream Sandwich version out of the box and includes 1730 mAh battery capacity which provides atleast 6 hours of talk time on one complete charge cycle.
ZTE Force has following specifications –
4-inch touchscreen display
800 x 480 pixels resolution
Android 4.0 Ice Cream Sandwich OS
1.5 Ghz dual core processor
1 GB RAM
4G LTE phone
1730 mAh battery
5 mega pixel rear camera
1 mega pixel front facing camera
4 GB internal memory
Sprint ZTE Force Pricing & Availability
ZTE Force is originally priced at $299 but it's been sold at $150 with $50 mail in rebate and $50 instant saving. So that brings the overall price of the device at $ 49, which is what title says. You also need to signup new two year agreement with a monthly plan compulsory from Sprint. At this price, there are lot many Sprint powered smartphone available and ZTE Force looks like a forceful price by Sprint. Days are not far when you see this device selling for a penny. Let's wait and see how many customers turn up for this device.