Square Cash Apple iOS App allows you to send money through email for free. Download Square Cash app for iPhone, iPad & iPod, ipa file links.
Tired of Paypal limitations over sending and receiving money or it's Paypal fees hurting you the most? Here is a simple solution for those who are based in United States needing to send money to their counterparts. Square Inc introduces easy money transfer to any one via email. Just like other money processors say - it's fast, safe and absolutely free. Square Cash is the one that you need to have for money transfer via email and unlike other payment processor, you willn't need an account. Square Cash App is available officially at Apple App Store for iPhone, iPad, iPod & iPod touch.
On to Square Cash you just need to link up your debit card as to store up your financial information. Don't worry! Your Bank & debit card information is kept private through secure connection and you have all rights to confirm or reject any transfer made. Once Debit card linking is done, all you need to do is enter the email of your friend, dollar amount in the subject linke and in the subject column provide [email protected]. So within 2 working days, your money is sent to your friend or client.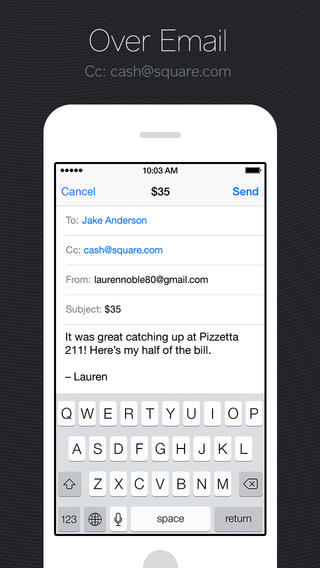 Interestingly, Square Inc doesn't charge anything for this cash transfer and this is limited to transfer of funds in United States only.
Download Square Cash iOS App for free