Stock Apple Watch Apps: The Apple Watch is the newest sensation in Smartwatch and as Tim Cook is pleased with Apple Watch sales, 1 Million orders were received on Day 1 itself in United States only. Developers at Apple are working hard to make as many compatible apps for Apple Watch. Some of stock Apple Watch apps comes pre-installed on the device to make it look like Apple device. Given that there are 20 apps pre-installed right now and more than 50 apps are compatible with it.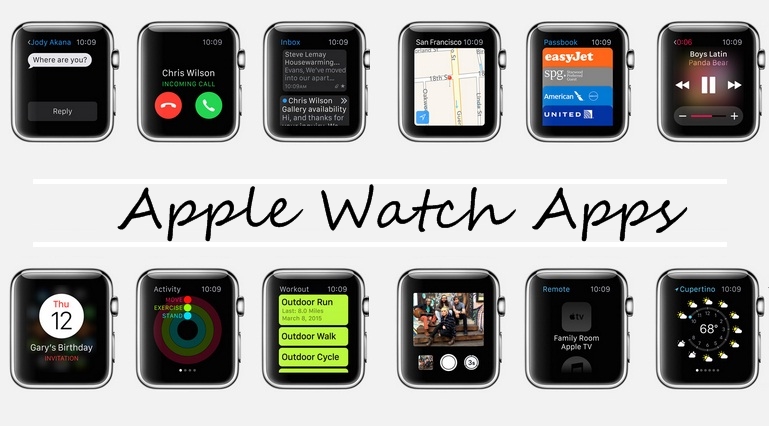 Stock Apple Watch Apps:
Apple has included 20 apps that comes pre-installed on Apple Watch right now. These are also called as stock Apple Watch apps and they are essential to get most of your newly purchased gadget -
Messages
Phone
Mail
Calendar
Activity
Workout
Maps
Passbook
Siri
Weather
Stocks
Settings
Music
Remote
Camera Remote
Photos
Timer
Alarm
Stop Watch
World Clock
Compatible Apple Watch Apps:
The following are the list of compatible Apple Watch Apps -
Twitter
Instagram
Evernote
American Airlines
New York Times
ESPN
eBay
Expedia
TripAdvisor
Starwood hotels
Babbel
Nike+
Runtastic
Strava
Lifesum
MLB
PaybyPhone parking
Citymapper
BMW iRemote
Honeywell lyric
Lutron Caseta
Green Kitchen
Open Table
Target
Sky Guide
Dark sky
Fandango
Mayo Clinic Synthesis
Redfin
Salesforce Wave
Procreate Pocket
Mint Personal Finance
CommitTo3
Invoice2go
CitiMobile Lite
NPR One
CNN
PaceMaker DJ
Shazam
Boxpop
This list is definitely growing and by April 24, there will be more than 100 apps available for you to download & install on your Apple Watch.