Source Technologies, various printers manufacturing company based in North Carolina, on January 14, 2013 has announced STw.1110 desktop printer with sleek, compact design which is also easy to use in workstations.
STW 1110 WorkStation Desktop Printer
Introduced in the Workstation series printers, STw 1110 is a new compact desktop printer with the thermal printing technology. It includes leading technology design and has standard features like Ethernet 10/100 port, 50 fonts supports, 300 dpi print head resolution and lot more. One of the important advantages of using thermal printers is that it can reduce the cost of printing and maintenance to extreme low furthermore increasing the productivity and management.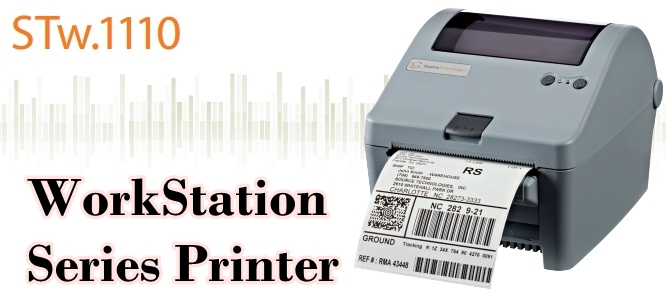 This new printer is applicable in workstations which require shipping labels, product labeling, shelf labeling, item labeling, Asset management, pharmacy labels, parking tickets, boarding passes, ticketing for any transport, movie tickets, receipt printing.
With this printer, you are no longer limited to little font selection but you can make use of around 50 resident fonts to create custom labels on demand. The print head with 4in/102 mm provides superior print quality and understands the standard PCL5e language to easy transition and also enhances the quality of graphics, text and barcodes.
With specifications of printing standing at 4ips/105.7 mm with maximum printing speed with a width of 4.16in/105.7 mm. It includes two LEDs – Power On (Green), Error(Red) and with reset button located at the rear side of the unit. You also have two control panel buttons providing stop/resume and feed/cancel. With printer looks to be OK in size, it just weights 5 lbs (2.4 kgs) which mean it can be easily portable from one place in the workstation to another one easily.
The features of STW 1110 are -
300 dpi print head resolution
SAP ready printers
Simple Calibration
Compact design
PCL5e standard language
32 MB Flash/32 Mb DDR2 SD RAM
Direct thermal printer type