Subway Surfers returns to Miami world tour for January-February 2014. Go through Subway Surfers Miami game playback, tips and guide.
It happens to Miami world tour yet another for Subway Surfers as Mumbai world tour is discontinued  in the middle of January month. Normally Subway Surfers World tour last for a period of one month but Subway Surfers Mumbai was just for 25 days or so.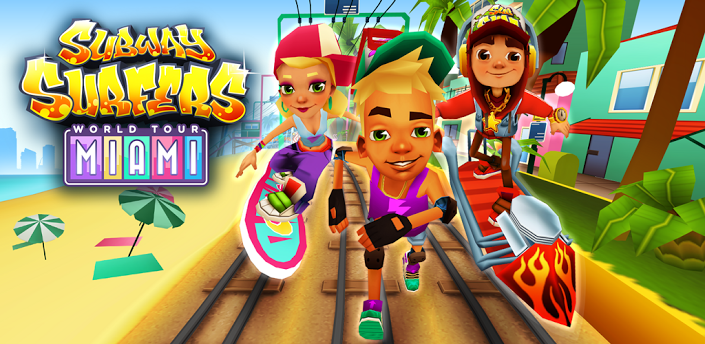 Interestingly Subway Surfer has been through Miami world tour which was for the month of June 2013 and once again Kiloo choice the Atlantic cost city in Florida. So the Jack returns to same old track found in Miami beach and the Miami inspector chases him along with his dog.
Until now Subway Surfers has gone through various world tour likes New York City, Rio de Janeiro, Rome, Australia, Tokyo, and now the Miami beaches. This update is update to all the iOS/Android users with version 1.18.0.
This month also its included with Weekly hunt to collect pink flamingos on the tracks that you are running and it also includes Tasha's a fresh retro outfit.
Download Miami Subway Surfer for Android
Subway Surfers for iOS
Subway Surfer for Windows Phone