Subway Surfers Moscow World tour has arrived. Check Moscow Subways game playback, tips, tricks, PC game, hack, APK download.
Back from where we left Jack for one month tour of Beijing Subways, the famous game by Kiloo has now been updated to Moscow World Tour. So its the time to go through the color trains of the Moscow Subways. The never ending games, Jack the hero has to go through the three different rail lines and avoid been caught up by the Moscow Police Officer. Wait! There is police dog as well.
The popular mobile game is now updated to Moscow world tour and this update is been rolled out to your devices right from today. Turn data connection ON and you will be happy to see this update available. The Moscow World tour for September 2013 brings the special character Lusy with amazing outfit.
And also for Russia world tour Weekly Hunt continues as you need to collect given number of Russian Dolls during the game playback. Here is what you get after each achievement.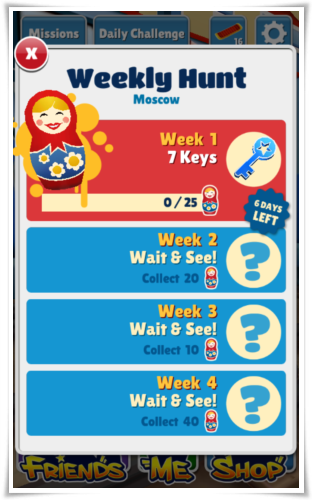 The other Subway Surfers past edition are –
Subway Surfer Paris World Tour
Features of Subway Surfers Moscow are –
Follow the Subway Surfers to Russia
Paint trains in magnificent Moscow with dancing Alex, the Moscow limited character
Dress up Lucy in new stunning Outfits
Add the cute Teddy board to your limited board collection
Find the hidden Russian dolls and win exciting Weekly Hunt prizes
Subway Surfer Moscow Hack
Uninstall the previous version.
Download the Modded .apk file.
Using any file manager, install the .apk file.
Open the app and sign in using your Facebook account and all of your records will be restored.
Download Moscow Subway Surfers for Android
Android App Rating – 4.75 / 5
Download Subway Surfers APK
Subway Surfers V1.10.0 APK Download Link 2
For iOS Users : DOWNLOAD 
For Android Users : DOWNLOAD
Have you tried Moscow World tour? What's your high score?