Find here the Subway Surfers Weekly Hunt prizes, tips, tricks, cheats codes to unlock them easily and get better.
You like mobile gaming, don't you? If you are gaming kind of a person then you should have certainly tried Subway Surfers game. This popular game not only for Android but iOS powered Apple phones as well. It's yet to be launched on Windows Phone platform. We can expect its availability pretty soon.
Subway Surfers Weekly Hunt
Subway Surfers releases a new update every first week of a month and world tour for particular destination continues for complete rest of the month. That makes game interesting and adaptive to people who always want something different. Included in this every update of Subway Surfers is the weekly hunt prize. So what's Subway Surfers Weekly hunt?
During the game playback you will be asked to collect some idols or symbols which come in between the tracks during game playback. Every month on achieving weekly scheduled task you will be awarded with one or the other power-ups like Hoverboards, score boosters and lot more. So for New Orleans world tour weekly hunt is to collect pumpkins while you run and for the World Tour Paris it was Eiffel Towers Idols.
Here is the weekly hunt prizes for World Tour New Orleans –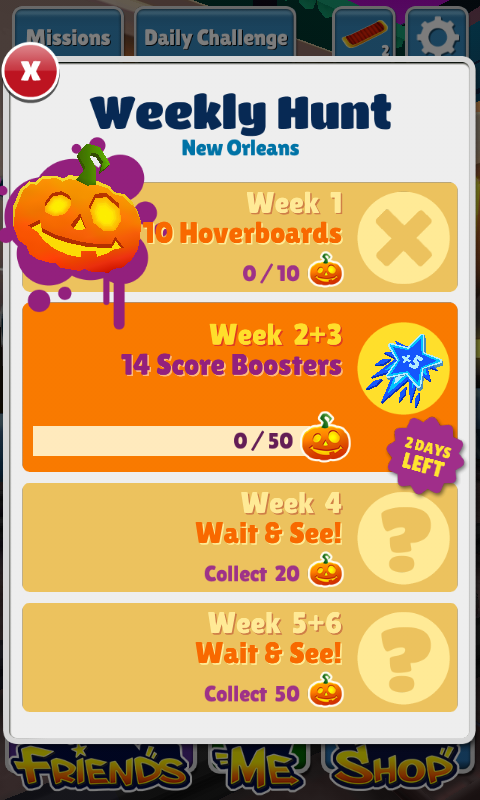 The easiest way to unlock weekly hunt is to continue playing the game and collect those special characters which comes in between. Weekly hunt task is not that hard to achieve.
Alternatively to unlock it, you can go with weekly hunt cheats. We would suggest you to go and search in Google in regard to that.
Download Subway Surfer for Android
Download Subway Surfer for iPhone