Subway Surfers world tour now reaches China to explore the historic mystical Beijing.  Subway Surfers China game playback, video, tips, tricks, hack & others.
Back from Paris World tour for a lovely 2013 summer, Subway Surfers Jack returns back to East again to cover up the China region. Endless running Jack mobile game has been developed by Kiloo and this update is available for Android, iOS and BlackBerry powered smartphones starting August 2, 2013 as we first write about China world tour.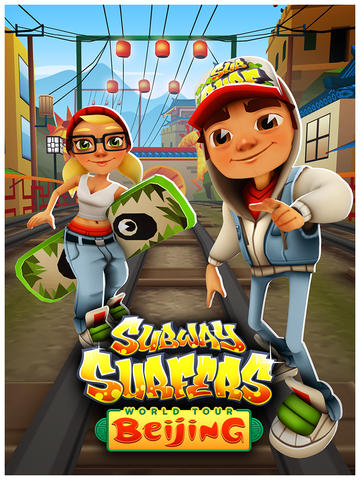 Until so far Subway Surfers has reached through the metros of New York, Rio De Janeiro, Rome, Sydney, Tokyo, beaches in Miami, Paris and now back to Eastern countries. Each time Kiloo releases an update to the most downloaded Android mobile game, it bring a new environment, new character and a new weekly hunt.
So through the Metro in Beijing find the hidden dragons to complete the weekly hunt challenge and unlock the acrobatic Sun.
Starting from China world tour you can now reach the rooftops with the awesome Power Jumpers.
How to Update
If you open Subway Surfer, you will see a notification on your device first up. Follow the notification, it will ask for navigation, select Play Store and tap on update. Your new Subway Surfer update will be downloaded in little.
Alternatively if you are connected to Wi-Fi and if Apps updates is enabled in Google Play Store, you will see that your app will be automatically updated to Subway Surfer China.
For iOS devices, the game is compatible with iPhone, iPod touch, and iPad running iOS 5.0 or later.
Here is Subway Surfers Beijing China video game HD playback -