Subway Surfers is among the top 5 Android free games and of late it has been enjoyed by many of Android phone owners. Kiloo has released a new update to Subway Surfers taking Jack to Tokyo as a part of its World Tour 2014 cities. This happens to be the second time Tokyo world tour, as it was also released last year during the same period.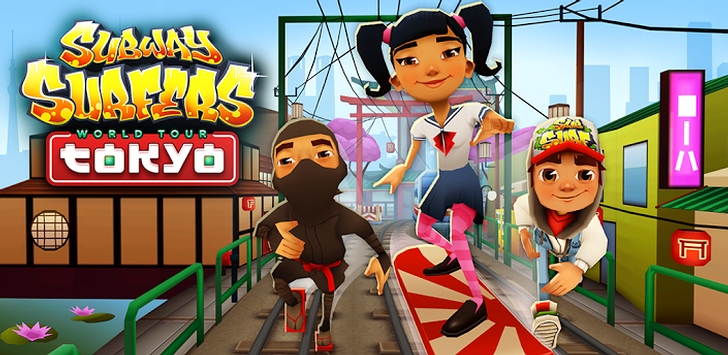 This update also brings Harumi the special Tokyo character collection available for purchase at 95000 coins. While maintaining the same game playback the scenery & trains are aesthetically pleasing. This major update also includes Weekly Hunt Tokens to add more fun to the game. To get through the weekly hunt, you need to collect the tokens during the game and after each week you can unlock the hidden surprises.
Now dodge the trains in the neon lit subway under the blooming cherry trees. With new challenges put your skills into test. This wasn't as surprise to us as Kiloo is slated for monthly updates of the popular Android game. Soon in coming days you might find Subway Surfers Tokyo Tricks, tips, cheats, hack.
Subway Surfers 1.10.0 is now available for free via Google Play and its compatible with Android 2.3 and higher version of Android. I have achieved the highest score of 84,420. What's your best score?
For those who are wondering on how to get Tokyo Subway Surfers, we have guide here –
Updating Existing App to Latest Version: If you are using Subway Surfers, you might see this update notification when you activate data connection on your phone. Tap on Update in Google Play and once downloading is done, you will be able to see Tokyo Subway Surfers. Above are some of the screenshots of Subway surfers on my Android phone.
Download the Fresh App: If haven't downloaded Subway Surfers on your phone earlier, then go to Play Store, tap on Apps and search for Subway surfers. It will automatically install the latest Tokyo Subway Surfer version for you. Alternatively if you are reading this article from mobile then tap on the below link and open it via Google Play.
Here is the video game playback –
Download Tokyo Subway Surfers for Android
Android App Rating – 4.75 / 5
Subway Surfers V1.10.0 APK Download Link 2