Following the World Tour in Miami beaches, Kiloo has released update to Subway Surfers as World Tour reaches the Paris Subways. This update is a part of Kiloo monthly schedule to release different World Tours around the world this year. Thanks to Advices Academy for letting us know about this update.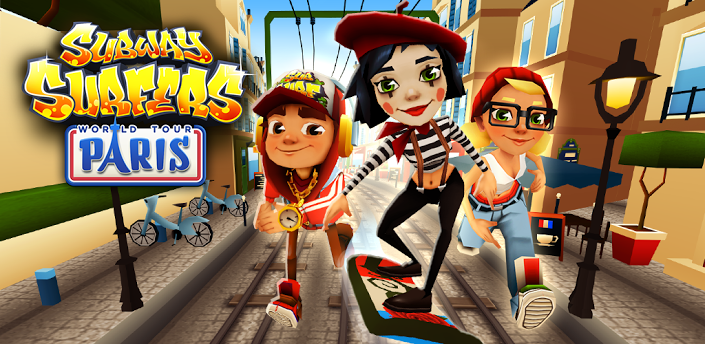 Here are some of the screenshot of Paris Subways Surfer World tour taken on our Micromax A89 Ninja phone. Doesn't matter whether you have Galaxy S4, Xperia Z or HTC One, this update can be downloaded to your device officially now.
For April it was Sydney, for May it arrived for Tokyo and then to Miami for June. Subway Surfers now take a back turn to reach Paris the city of love and lights.
Welcome to Paris as Subways Surfer World Tour goes Europe. As as user make Jack visit France and meet Coco the mime. Just like Flamingos for Miami World Tour, the Paris World Tour brings new prizes every week and the task here is to collect tiny Eiffel towers high and low. This update also brings new stylish outfits of Spike and Tagbot giving Jack a personal touch.
Subway Surfer Paris update includes following features –
Visit France and meet Coco
Collect sets of Eiffel towers to win weekly prizes
New stylish Spike and Tagbot outfit
Graphical UI has been improved to proved smooth gaming
Still no support for entry level Samsung Galaxy Phones.
Various Subway Surfers Paris coins hack, cheats, glitch, APK download will be available soon although this is not a good thing to do. For those who are wondering on how to get Paris Subway Surfers, we have guide here -
Updating Existing App to Latest Version
If you are using Subway Surfers, you might see this update notification when you activate data connection on your phone. Tap on Update in Google Play and once downloading is done, you will be able to see Paris Subway Surfers.  The App update will be downloaded to your device.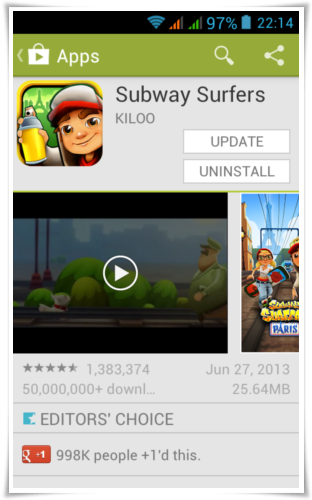 Download the Fresh App
If you don't have Subways Surfer, no issues. Go to Play Store, tap on Apps and search for Subway surfers. It will automatically install the latest Paris Subway Surfer version for you. Alternatively if you are reading this article from mobile then tap on the below link and open it via Google Play.
Here is the video showing hands-on Paris Subway Surfers World Tour -
Download Paris Subway Surfers for Android
Android App Rating – 4.75 / 5
Download Subway Surfers APK
Subway Surfers V1.12.0 APK Download Link 2
For iOS Users : DOWNLOAD 
For Android Users : DOWNLOAD 
I have achieved a high score of 968820 a score close to a million, what's your personal high score?