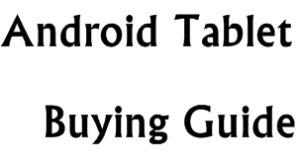 The arise of Android in the world of mobile operating system tells us the fact that Google is here to conquer anything which comes their way. Tablet PC are on all-time high in 2012 and it's expected that we might see evolution in tablet PCs this year as hybrid tablets with Linux, Android and Windows tablets will come into picture. Tablet PC will be compared with notebooks as there isn't much difference between both of them.
If you are looking to buy a tablet PC and wanted to know the mantras for buying the best one, we will guide you on to choose the best possible device at an affordable price. We haven't listed the tablets PC's here instead we have focused on different parameters you should look into while shopping for tablet either online or at stores.
There is no smart trick in buying tablet PC and everything is explained here in simplest language possible. This exclusive guide is for those ones who are looking to buy an Android tablet but not the Linux or Windows 8 tablet.
Android Tablet Specifications Checklist
Here goes the top parameters which you need to focus while you are shopping for Android tablet PC -
RAM Capacity – Should be Minimum 1 GB & Higher
Leaving behind the processor & the display screen in your tablet PC, the first thing you should check while buying a tablet PC is the RAM included in the device. For a smartphone 512 MB is optimum preferred even for a low budget device but when it comes to tablet PC a minimum of 1 GB is required to give better performance. In case if your budget for buying a tablet is too low then 512 MB might be just sufficient enough. Top selling Google Nexus 7 manufactured by Asus originally comes with 1 GB RAM. We see there are several types of technology been adopted in RAM and while you look over technical specifications of a tablet then also check out whether its DDR2 RAM or DDR3. DDR3 is the latest development in RAM technology.
Processor – Minimum 1 GHz and higher is Add-on
Once you have gone through technical specifications of a tablet, while RAM comes first, second thing you should look over is the processor datasheet. Processor is the heart of the tablet and as the current trends sees quad core processor is predominant. A tablet PC with quad core processor is excellent add-on as such devices providing no lags but these devices are priced quite higher and
Android Version – Atleast Android 4.0 Ice Cream Sandwich
Android tablet should include the latest Android 4.0 Ice Cream Sandwich version of the Google's open source operating system for mobiles devices. This is because Android 4.0 and higher (Android 4.1, Android 4.2) are optimized for smoother operating and navigation with best user interface. Moreover there are many apps in the Google Play Store which are better optimized for the latest version of Android OS.
Hands-On Experience – Have a touch before you buy
We always like to check the products hand-on before buying it, the same thing goes for tablet PC as well. Before you finalize the deal, make sure you have hands-on experience with the device because it's your hard earned money. With your hands-on you will be able to judge that tablet PC which you are about to buy is off your suite or not.
Camera – Minimum of 5 mega pixel, Front Facing Camera
A tablet PC should be an all-round device, capable of capturing better photos & videos. You can expect your device to record 720p HD videos and better camera resolution. 5 mega pixel camera that's what we see as the minimum required for a tablet PC. Some of the better features included in the Android 4.0 ICS powered Android tablets are the Panorama mode, auto flash, face detection and lot more. Since tablet PC is an complete entertainment devices, one can go with video calling or video chatting feature available for free connect with your friends via various social network sites. If you want it on your tablet then look around for tablets which are with front facing camera. Although they might be 0.3 mega pixel range, that would be very much enough.
Read Reviews Online
Since these products are also available for online purchase via Amazon, Flipkart, Best Buy and other dozens of online sites. Many people might have purchased that tablet before and they actually comeback and comment/review the product. We recommend you to read those reviews by users as they are actually helpful. This is because you should regret once when you have bought a tablet.
Best Tablets
Based on the above suggest we would like to recommend few tablets to you accordingly to sizes –
Best 7" tablet PC – Amazon Kindle Fire or Google Nexus 7
Best 10" Tablet PC – Google Nexus 10
Do let us know if you have any other queries relating to any tablet. We would provide you the best advices possible.