Facebook is widely used social network site and after WhatsApp acquisition from the mouth of Google. Everywhere Google is popular but not in social networking as their attempt of Google+ as a Facebook alternative isn't working out. As of March 31, 2015 Facebook had 665 million active subscribers. Given that, there might be some errors while you are on Facebook. Many of which has fix but not this one[atleast].
Recently I came across this Facebook Error in my profile. When I Google it on web, I found some results leading to this Facebook help page and what I found is that there are many people who have got the same error and still there is no fix to it.
The Facebook Error reads –
This content is no longer available
The content you requested cannot be displayed right now. It may be temporarily unavailable, the link you clicked on may have expired, or you may not have permission to view this page.
That's actually the error displayed and you just have the option to click on Close. Furthermore there is no explanation by Facebook team why this error happens.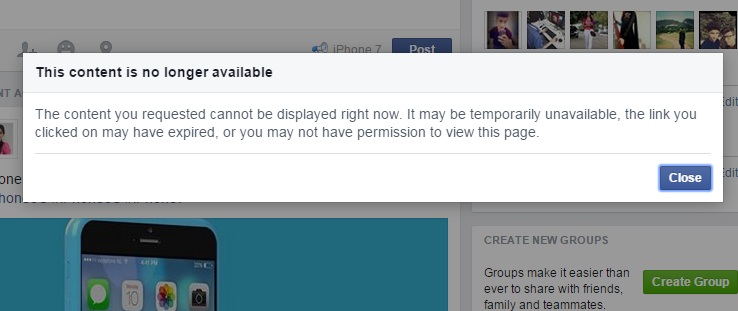 Why The Error?
It means that the page/content that you are trying to request is unavailable or it maybe expired. But looking at the reason why I got that error is really annoying. I was just trying to write a post on our Tech News Facebook Group when that error happened. For some people who error happens while uploading photos to their timeline.
How to Fix That Error
Some people have suggested clearing the cache and cookies on browser will work as error maybe due to outdated browser or missing drivers. That sounds irrelevant to error reason as visible in the screenshot.
Many people have posted that they got the same error while doing the same stuff they were doing it earlier. There is no resolution from Facebook regarding why this error pops-up and way to fix it. For some users, the error got auto resolved after few days.
Recommended Method – Try changing the browser and see. Still doesn't work, then try to login into Facebook from different PC and check it out.