You might have seen various Airtel, Videocon, Tata Sky and Reliance DTH antennas mounted on the wall or on the roof. These antennas are for the satellite television broadcasting useful for the home reception. Different from the conventional way by which you can recharge your DTH account, several online third party sites have come up intended for the purpose of online DTH recharge.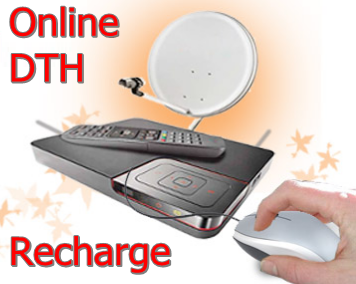 As of now six India wide recognized operators exist which are Dish TV, Reliance Digital TV, Sun Direct, Tata Sky, Videocon D2H and Airtel Digital TV. Mostly all the online dth recharge sites allow you to recharge all the above companies D2h accounts. Here we have listed top best sites to recharge your D2h account right now -
RechargeitNow
In our view, Rechargeitnow is one of the fastest e-commerce sites for online D2h recharge. Whether you have Airtel D2h, DishTv, Reliance TV, Sun Direct, Tata Sky or Videocon D2h, RechargeitNow covers a range of recharges services for DTH in India.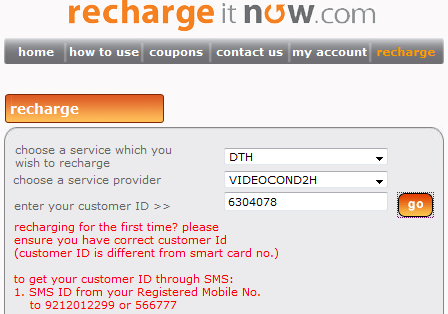 Only required thing is that you should be registered which is simple and you should have a Credit Card or Debit Card to proceed with the transaction. They also have displayed the recharge plans of each DTH operator.
GoRecharge
GoRecharge.com is another site by which you can recharge any D2H services in India. Simple and easy but they have no plans details available on their website and users should know about the existing plans. They provide recharge to Dish TV, Reliance Digital TV, Sun Direct, Tata Sky and Videocon D2H services.
Rechargeguru
Rechargeguru.com providing recharges to different DTH operators in different denominations. You need to select first operator and then recharge denominations will be displayed, click on it to select the respective ones and then proceed.
TalkTym
Recharge your Dish TV, Reliance Digital TV, Sun Direct, Tata Sky, Videocon D2H and Airtel Digital TV account fast and efficient using TalkTym.com site. Registration on to the site is optional and it quickly has option of DTH recharge on its homepage itself. Just enter the DTH operator, Subscriber ID and Amount.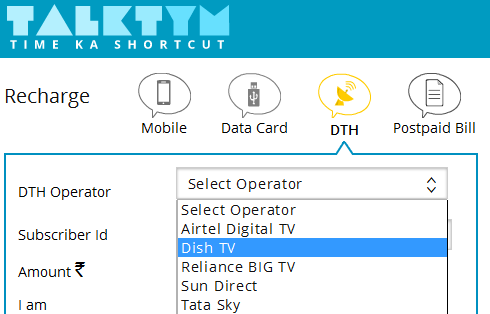 ICICI Bank OXIMALL
ICICI bank has setup online DTH recharge in partnership with Oxigen the mobile payment processor to come up with D2h and mobile recharge online. Just select Operator, Enter subscription number, mobile number and the recharge amount, you are ready to go.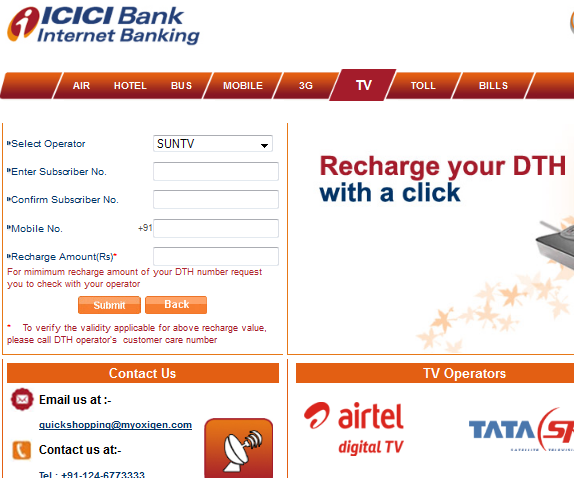 JustRechargeit
Just Recharge is another known and efficient online mobile, DTH and data card recharge services online. They are quite popular and you should have a free verified account registered with them.
FastRecharge
Another online recharge site providing mobile phone recharge, DTh Recharge and Datacard recharge as well. It supports all the six global player and you should be a registered users to complete successful recharge.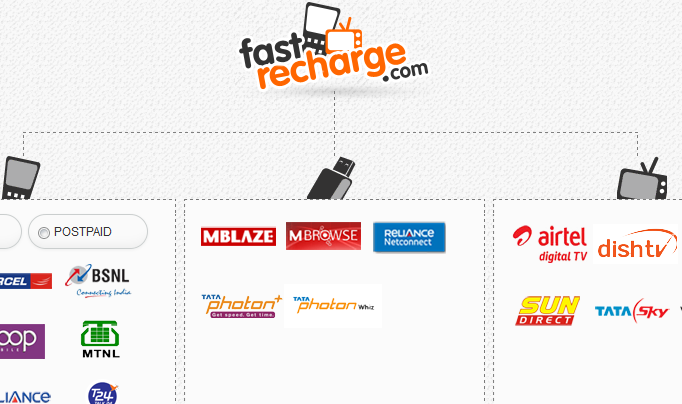 EasyMobileRecharge
EasyMobileRecharge is another famous site to recharge mobile, DTH and data card online.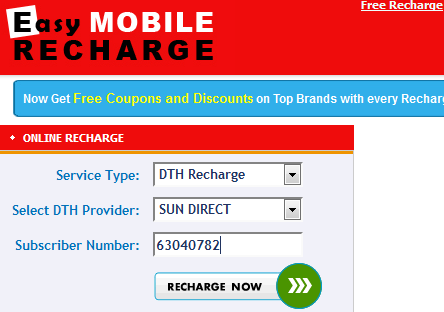 Which site are you using for DTH recharge to your account?