Are you latest smartphone addict? If yes, how you manage to copy contacts, messages and other personal data from your old phone to new phone? Old manual process of copying data to PC first then to new phone will spoil your valuable hours. If you need simple way to do it, then we recommend you to check out MobileTrans software by Wondershare.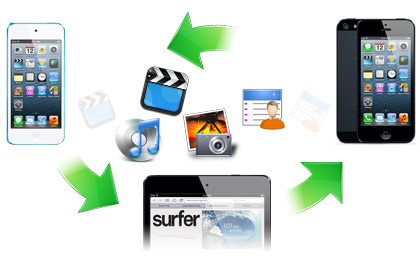 Wondershare MobileTrans is ultimate software for those who needs to copy 100% data on their older mobile phone to newer one purchase recently. Doesn't matter if you own iPhone or Android or Windows Phone, you can transfer it to and fro from any popular mobile OS. This ultimate software is available for Windows operating system. MobileTrans supports more than 2000 smartphones on different network including Android, Nokia, iPhone iPad, Windows Phones, iPod, iPhone 5C, 5S and supports worldwide famous networks like AT&T, Verizon, Sprint, T-Mobile, Airtel, Bell, 3, US Cellular.
Guide mentioned below will show you how you can easily copy contacts with not only names and numbers but also the associated data such as contact email, job title, address, any field.
Step 1: Download MobileTrans software on your PC and begin installation. Once the program is installed completely, you will have to launch it.
Step 2: As soon as open it, you will be asked to select mode: either 'Phone to Phone Transfer' or 'Backup and Restore'. Since our requirement is to transfer contacts from your existing phone to a new phone, select 'Phone to Phone Transfer'.
Step 3: It's time to bring both the device in action. Your old phone and the new phone should be connected to your computer using the USB Cable at same time. Please make sure that proper USB drivers are installed on your computer to recognized both the device and to perform this action you will need to have two USB cables.
Step 4: Check if both the devices shows "Connected Status".
Step 5: Select 'Contacts' from the list of 'Select Content to copy' since our requirement is just to copy the contacts but you can also copy other data such as Text messages, call logs, Apps, Photos, Music & Videos by selecting the related options.
Step 6: Confirm everything and select "Start Copy" to begin the process of copying the data from one phone to another.
Note: You should ensure not to disconnect any of the phone until the transfer of data is done. If you are transferring data from Android to Android then you will not need to install the apps you used and even Calls logs gets synchronized. Calls logs and Apps doesn't get synced when transferring data from iOS to Android, Android to iOS, Nokia to iOS, iOS to Nokia, Android to Windows Phone, iOS to Windows Phone.
That's not all as Wondershare MobileTrans is designed to backup phone data on your PC safely and restore it whenever you want. So a total of $39.95 for full version is not a bad price for a software which backups your phone regularly and comes handy when you a new phone.