Want to Save Battery On Your Android 4.4 Device? Here's How You Can Turn Off Ok Google Hotword for Voice Recognition.
With Android KitKat OS coming with voice recognition on Google Nexus 5, 'OK Google' has been the hotword recently. Speak out these two words if you're on Android 4.4 and want the responder activated. It's another matter that the voice recognition doesn't start off till your device is screen-locked. Not like the Moto X anyway where voice recognition rolls out even if you've screen-locked the device. Still having this feature is an impressive plus for the Android 4.4 and Nexus 5 combination.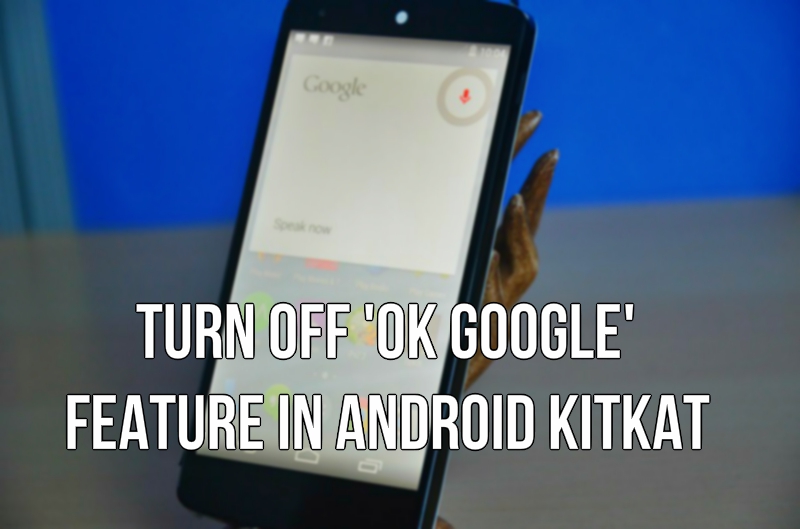 Google is now offering this feature for previous Android OS versions as well, by adding it to the Google Now updates. There's a difference, however. In KitKat the Google Experience Launcher has a different mechanism so the kernel is always on partial wavelock which leads to battery overuse since not only is the OS active but the microphone also stays ready to listen in to commands.
So it makes sense to turn off 'Ok Google' option when you're not using it. Remember, if you turn it off, you won't be able to use it on Google Now as well.
Turning Off "Ok Google" in Android 4.4 KitKat
Get started by turning the voice-recognition hotword off by tapping and holding any launcher page or home screen on which you'll see several options. Choose on 'Settings' and from here go to Voice and uncheck the option, "Hotword Detection". This turns off the feature for you both for Experience Launcher and Google Now.
Also Read – Android 4.4 Features
If you're on a previous OS version and want to turn it off from Google Now app, just go to the Google Search bar and tap the icon for Microphone. From here you can navigate to the options for un-checking Hotword detection. You'll see the Microphone icon becomes hollow, a sign that voice detection is now deactivated in Google Now.
Let us know if you're facing any issues on this.