With Motorola Moto E, a new breed of Android smartphone is born which not only includes amazing features but also comes in affordable price tag. We hear that Moto E will be going through Android 4.4.3 Kitkat update in coming days.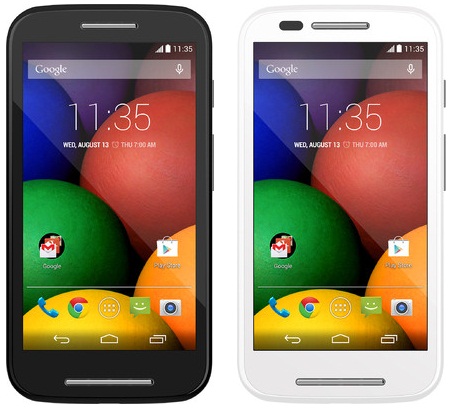 In this guide check out instructions on how to unlock Moto E bootloaders for the international version with model number as XT1022. Conversely  this process doesn't apply to Sprint, Verizon, T-Mobile, AT&T and other carrier locked Moto E handset. But before going through the actual instructions on how to unlock bootloaders, follow these mandatory requirements -
Backup all the data on your phone. Make use of any free Android app available on Play Store.
Enable USB Debugging on your phone by going through Settings > Developer Options > USB Debugging.
You should ensure that you have charged your phone to atleast 80% battery life.
Make sure that proper USB drivers are installed on your computer.
Unlock Moto E Bootloaders
Follow the guide mentioned below -
Download Android SDK on your computer and install it first.
Enter your Moto E phone in Fastboot mode.
It can be done by Powering off the phone first and then Press and hold Power button + Volume Down button.
Right from your PC, open the command prompt in the directory where you have installed the Android SDK tools.
In the command prompt type the following mentioned line –


$ fastboot oem get_unlock_data

It will then return you some string which looks like -


$ fastboot oem get_unlock_data
(bootloader) 0A40040192024205#4C4D3556313230
(bootloader) 30373731363031303332323239#BD00
(bootloader) 8A672BA4746C2CE02328A2AC0C39F95
(bootloader) 1A3E5#1F53280002000000000000000
(bootloader) 0000000

From that output, remove the (bootloader) text and add it as continuous character.
The string should look like-


0A40040192024205#4C4D355631323030373731363031303332323239
#BD008A672BA4746C2CE02328A2AC0C39F951A3E5#1
F532800020000000000000000000000

Head over to Motorola Moto site and follow the process.
So with that you have unlocked bootloaders on Moto E phone.