We all know that Ubuntu operating system is out and there is almost nothing in the world which can be done on your Android phone. From installation custom ROM of your type to complete control on the admin files, in short that's what Android is all about. After updating the Nexus 7, Nexus 10 tablet with the official Ubuntu developer preview we move ahead with the steps to install the same Ubuntu latest released Developer Preview to Samsung devices. The first one in the Galaxy S family is the first pick, i.e., Galaxy S GT-I9000.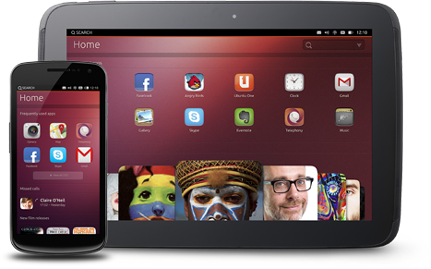 Even Ubuntu is complete different operating system just like Firefox OS or Tizen OS, this can be installed on you Galaxy S phone. Here in this guide we would be going through the complete upgrade procedure and step to follow in order to perform the safe installation.
Here in this guide we would be using the ClockWorkMod recovery, so you should ensure that the CWM Recovery is installed on your Galaxy S phone. With this update most of the things are working your phone like Basic user interface, WiFi, camera and GSM data connection is not working as they need exclusive modifications in Ubuntu RIL layer.
Galaxy S USB Drivers: In this tutorial you will need to connect your Galaxy S phone to the PC and so its required that you phone should be detected on the PC. Make sure the Samsung Galaxy S Drivers are installed.
Ready to update your Nexus 7, wait! You need to ensure some mandatory steps to follow. These are important to save data loss on your Nexus 7 tablet, follow them –
Make sure that you have charged your tablet to 100 % and then proceed with this update. It's quite important step.
You should have enabled USB debugging on your tablet. This can be enabled by going through Menu > Applications > Development and ensuring that USB debugging is Ticked.
Last but not the least you should ensure that your tablet is not carrier locked as this trick will work only for the unlocked, i.e. carrier free bootloader unlocked devices.
You should be using the Linux based computer preferably with Ubuntu installed on it. Sorry hear that this trick can't be performed on Windows PCs.
Your phone should have installed ClockWorkMod Recovery 10.1 on your Galaxy S phone.
Update Instructions
Download the Ubuntu Developer Preview ROM, OS Data files and Layout fix zip files to your PC.
Connect your phone using the USB cable to the PC.
Now mount your Galaxy S USB memory on your PC using the USB cable.
Now copy the downloaded Ubuntu ROM, OS data file and the Layout fix zip files to your phone SD card.
Turn off your phone and disconnect it from the USB cable
Go through Recovery mode on your phone, it can be done by going through Volume UP button, Home button and Power button altogether at once.
In ClockWorkMod recovery menu, perform data wipe and then select Flash Zip from SD card.
Now chooze zip from SD card and then navigate to the folder where you have saved the Ubuntu ROM.
Repeat the procedure for OS data file and Layout fix zip file as well.
Once the installation is completed,  "++++Go Back++++" and "reboot system now".
With that you have updated your Galaxy S with Ubuntu Developer preview.