The Samsung Galaxy Note 4 and Note Edge were announced on November 14th and they are available via three major carriers in United States but one was left in darkness – Verizon Wireless.
Verizon Galaxy Note Edge
Verizon will not like you to keep in dark for too long as this unique designed smartphone is headed for debut on January 8th, 2015 and it should be priced at $399 for two years agreement. It can be yours for a price of $799 off contract and other plans includes $33.32 via Verizon Edge program.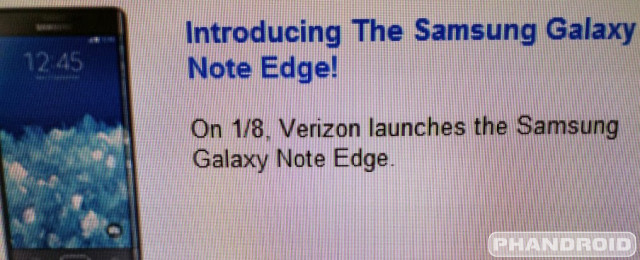 But wait – this happens to be rumors as nothing has been yet officially announced. This source of information comes from trusted source from Phandroid and maybe the date of launch is delayed.
This tipster also pointed out that Nexus 6 will not be available from Verizon until mid-February means a longer waiting time on-carrier. Unlocked Nexus 6 can be used with a pre-activated SIM on Verizon.
So Verizon Galaxy Note Edge is round the corner as the leaked date of launch (January 8) is not too far.
Via: Phandroid