The Security Patch Update as it is referred to, is being introduced in two of the LG devices, the LG G6 and LG G5. The Security Patch is for the Verizon LG G6 and LG G5 variants.
A 'patch' is a piece of software designed to update a computer program or its supporting data, to fix or improve it. This includes fixing security vulnerabilities and other bugs, with such patches usually called bug-fixes, and improving the usability or performance.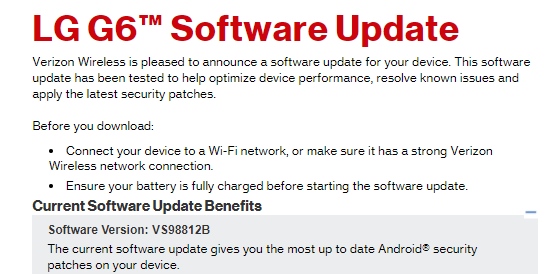 Verizon Communications, Inc. is an American Multinational telecommunications Conglomerate which is the largest US Wireless Communication service provider as of September 2014 and a corporate component of the Dow Jones Industrial Average.
The current update of Verizon is based on Android Nougat 7.0 and it does not in any ways bring any kind of change in the Nougat version. It has started rolling out as an OTA update and is expected to 'immerse' in the devices very soon.
Considering the fact of the security aspect, this is a 'fine move' by LG. The update can be got from Settings – About – Software updates, in case the same is not received on the said phones.
Again another new update has arrived with regard to the build number which is VS98812B for LG G6 and VS98729A for LG G5. Further, the user's device should be on the build number VS98811A and VS98728B for LG G6 and LG G5 respectively to receive this update. This is for the Verizon variants of the device.
This improvised way of inception would take care of the bugs by fixing them through the 'patch factor'. Hence, there is one sector that enables the safety of the phone, especially when we see a lot of them affecting and taking away the important data to manipulate with the same.
It kind of comes as a 'blessing in disguise' for the Android users and the customers of LG as they would be very glad about it, giving the company another slow-borne victory in the market of Android Phones.
This post was last modified on May 30, 2018 10:59 AM