Samsung Galaxy Steller is the latest device in the Verizon Wireless smartphone family to get the Android 4.1 Jelly Bean update. The update is rolling out now via over the air updates in United States and if you happen to own this phone, then you are on the right page for the right information about this update roll out. For those aren't whether to update or not, let me tell you that this will breathe in a new life to your device bringing some of the bug fixes found on your older version and also new features and improvements. Also Verizon Galaxy S3 gets Android 4.1.2 Jelly Bean update.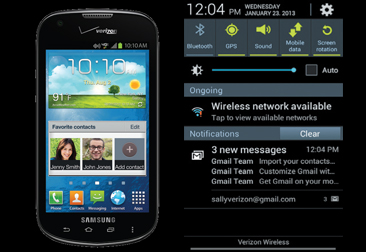 Among the improvements and enhancements included in the update are the new feature of Google Now and also new Jelly Bean Notification panel which list out missed calls, emails and provides access to those emails directly from the panel. The brightness bar has also been added to decrease/increase screen brightness in easy way.
Update Procedure
Since this update is available via over the air you are required to connect your phone to free Wi Fi as the file size of the download package is large about 403.6 Mb. Approximately it will take 15-20 minutes to update to your device and 20 minutes to download the software package. Once that is done you should go to Home > Applications > Settings > About Phone > System Update and the phone would connect to the Samsung servers. You will get notified whether updates are available or not, press Install button and within few minutes your phone would restart automatically.
Interestingly Verizon has notified the Galaxy Steller user on their network about this update. If you have received this notification, Tap on OK to continue and your device will power off automatically once the files are download and the installation would begin then on.
If you hit "Defer" button, the installation would be delayed and you will be taken back to your home screen. This update notification will popup again after every 30 minutes until you install this update.