WickedLeak has officially launches Alpha Smartwatch at Rs 11,990 in India.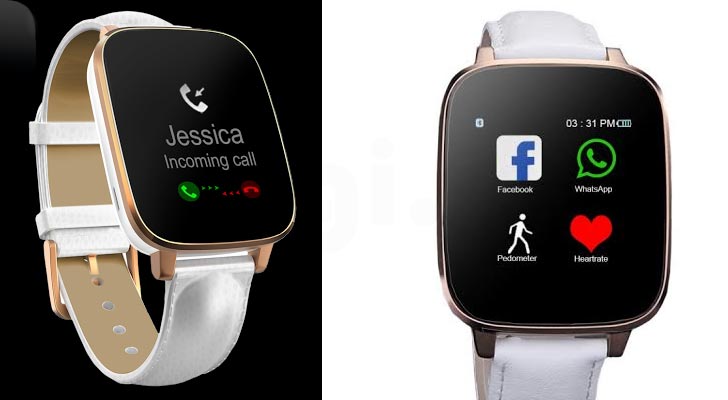 WickedLeak 'Made in India and for India' brand, has it's own way to get things going when it comes to digital products. After decent popularity of Wickedleak Wammy Note and Wammy Titan series of smartphones, company gets into wearable. Last year it was tablet PCs, this year it's smartwatch's which are considered to be new innovation of the year. For now they have introduced their first ever smartwatch WickedLeak Alpha smartwatch.
The Alpha Smartwatch is made out of CNC processed SS ring and Bi-injection molded back side for the best experience. This smartwatch also integrates Heart Rate Monitor [HRM] in the back sheel to provide accurate and live heart-reading at your finger touch. Just like you do on other smartwatchs you can track your sleep activity, can you use it as a pedometer.
Talking about technical specifications, it's powered with Mediatek MT2502 processor which is just designed for wearables and on top of that 1.54 inch Curved 3D Touch 240 x 240 Pixels resolution.
This looks to be Java based smartwatch so its compatible with both Android and iOS devices. The phone includes various functions like Phonebook to store contacts, Calls reminding, Music player, Anti-lost alert, Sleep monitoring, Camera remote, Call answer, Find phone, Sync SMS, Sedentary Reminder, Heart rate monitor, Sync Email, Calculator, Timer and Calendar apps.
Key Features & Specifications
Display: 1.54 inch Curved 3D Touch 240 x 240 Pixels resolution
Processor: MTK2502 chip with Bluetooth 4.0
CNC Steel Moulded Chasis
3D Curved Touch Display
Pedometer, Sleep monitor, Sedentary reminder
IP65 waterproofing
Call / Message reminder
Battery: 280 mAh Li-Polymer battery
Dimensions – 49 mm x 10.9 mm x 41 mm, Weight 48 grams
Price, Availability Info
WickedLeak Alpha Smartwatch is priced at Rs 6,990 for a limited period of time. Original MRP of the product is Rs 11,990. It's available in two colors of Gold with White and Silver with Black color choice.
Buy WickedLeak Alpha Smartwatch Now