Zebronics ZebPad 7 owners, you will be happy to learn that your proudly owned tablet PC can be now updated to Android 4.1 Jelly Bean operating system version. When ZebPad 7 was launched in April first week, it was supplied with Android 4.0.4 out of box and the Zebronics didn't mention anything of further updates. But today they have come up with availability of Android 4.1 Jelly Bean update to first ever Zebronics tablet.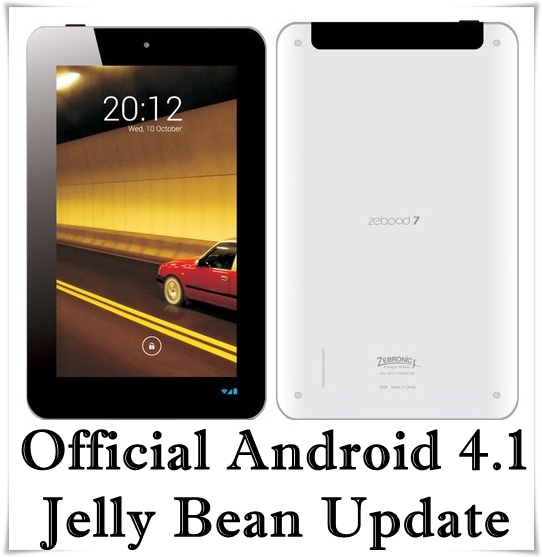 Zebronics ZebPad 7 Update
Usual method of updating your Android phone are via Over the Air update or via using the Software PC tool by connecting your phone(Over the wire). India smartphone vendors have adopted some unusual way although it falls in the process of Over the wire update. Here in this procedure we should you how you can update your ZebPad to Android 4.1 Jelly Bean version.
Precautionary Measures
Before updating you should ensure the following precautionary measures -
You should Backup your tablet before proceeding. This is because not to mess up with stock firmware of your tablet.
Your tablet should be charged sufficiently so that you don't run out of battery life in between upgrading process.
You should have proper USB drivers installed on your PC to successfully identify the tablet when connected.
Note: This process is officially mentioned by Zebronics hence we held no liability if you proceed with this firmware update. The software and firmware are owned by respective developers, we have no right reserved.
Zebronics ZebPad 7 Android 4.1 Jelly Bean Update Procedure
Assuming that you have taken care of precautionary measures, here is the guide to update your ZebPad tablet -
Download the ZebPad Android 4.1 update package.
Extract the file downloaded in step 1 and it will contain two folders as shown in the image below.
Open the ZebPad_upgrade_tool folder and install the LiveSuit.exe executable file.
Once installed, Open the LiveSuit and it will take you to User Wizard.
You need to format your Zebpad on the current firmware, so you will select the Format option.
Click on Next to initiate Format process.
Switch off your Zenpad tablet. Connect one end of USB cable to tablet.
You should press the Home button on your tablet and then connect USB cable to the PC.
Home button should be pressed continuously till I tell you to release it. Assuming that Home button is pressed, on the other side you need to press the Power button 5 times continuously.(Ensure that USB cable is connected properly, Home button is pressed and also Power button is pressed for five times).
You should automatically get the following on your LiveSuite User Wizard. If you don't get please keep trying the above step.
Now click on Yes. It will again confirm the same in the next window.
Once the formatting is done, the above software window will be closed automatically and LiveSuit window you will need to select Format Upgrade Mode by selecting Yes option.
The software will now install Jelly Bean firmware on ZebPad 7. Please make sure that while upgrading is going ON, USB connection is not disconnected. It will take not more than 5 minutes to apply firmware to your device.
After installation is done press the OK button.
To exit from software Press the button marked in below image.
Your ZebPad will be automatically restarted to take the settings into effect.
So you have now updated your Zebronics ZebPad 7 tablet with Android 4.1 Jelly Bean official release. You can check for the same by going through Menu > Settings > About Device, under Android version it will 4.1. As of now everything works perfectly but if anything isn't working do let us know via comments below.