Tripods are meant to improve your photography and video filming capabilities. Tripods for camera and video camera are available in all sizes, shapes and price range.
Advertisements
Best Tripods Under $20
We have here listed best tripods suitable for better photography and video taking all priced under $20 –
AmazonBasics 60-Inch Lightweight Tripod
Priced at just little over $20, Amazon Basics 60 inch tripods should be your choice if the budget is limited to $20. It's light weight and supports video cameras/camcoders/still cameras with weight up to 6.6 lbs.
Features
3 way pan head with bubble level
Quick release mounting plate
Quick release leg locks
Geared center post
6-inch operating weight
Price: $21.49


Vivitar VPT1250 50-Inch Tripod
This camera tripod stand by ViVitar brand is meant for basic videography and photography and costing just $15 to you. Definitely its a good for starters.
Advertisements
Features
360 degree swivel
3 way fluid pan head with bubble level
Rubber feet
Quick release mount
Multi section aluminum legs
Price – $14.25


72 Inch Professional Tripods for Camera
This tripod by Butterfly Photo supports all Canon, Sony, Nikon, Samsung, Kodak, Fuji, Olympus, Panasonic and other still camera and camcorders.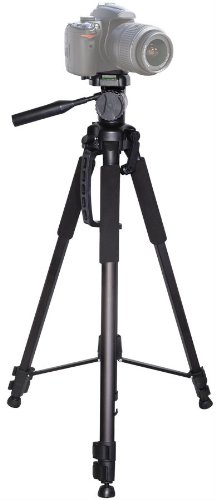 Features
Special carrying handle with foam grip
Self leveling rubber legtip
Maximum height 72 inch from the ground
Includes soft case for protection
Price – $29.95


Most of the tripods mentioned above are fulfilled by Amazon. They might or mightnot be available for worldwide shipping.
Advertisements