Millions of people are using Skype video calling apps on different platforms including Android but they are getting frustrated with regular update messages from the app developer. Yes, if you are using Skype versions 3.6 or 3.8, you will definitely get messages related to update stating 'Skype must be updated now for security reasons'. This is the real problem with many Skype users which must be fixed at the earliest stage.
Advertisements
Skype Forced Updates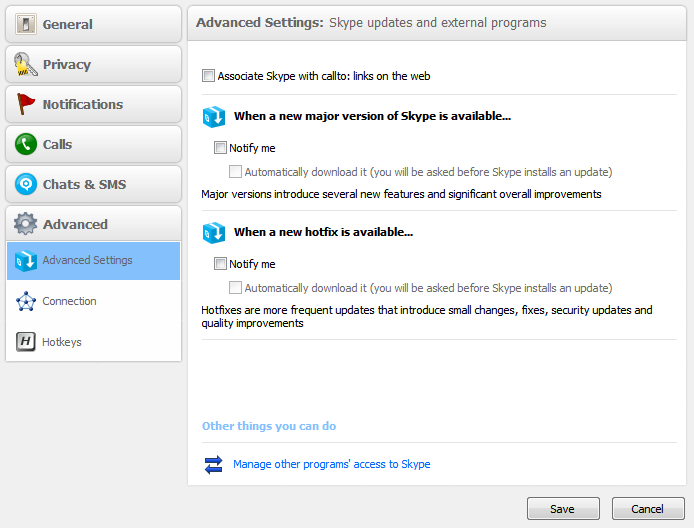 What has Caused This Problem to Occur?
You might have read the news recently that Microsoft has acquired Skype which simply means countless number of updates. Of course, people have questioned about the legitimacy and importance of such updates however; Skype will download these updates automatically to temp folder in the background.
Fix Skype Software Update Problem?
You can fix this issue by following steps which are stated below –
#1 – Disable Skype Auto Update
First of all, you will have to disable Auto-Update in Settings of Skype app. For this, you will have to go to Tools > Options > Advanced and see whether auto-update boxes are marked. If yes, unmark all of them.
#2 – Block Skype Update on Windows
In the next step, you should immediately block the update server of Skype using host files in your computer. Yes, simply navigate to C: /Windows/System32/Drivers/etc and file named 'hosts' should be opened with a text editor.
At the bottom of this just add this line: –
127.0.0.1 ui.skype.com
This line must not start with symbol # and should be entered at the bottom, in a new line.
Prevent Skype for Auto Update in Background
Advertisements
At the last, you will have to restrict Skype from downloading updates in the background which is done in secret manner, without any notification. In order to block such update process –
You should go to %temp%.
exe should be deleted.
Open Notepad and a blank file should be created save it as exe by visiting File>Save As option.
The user should Right Click on this new file of Notepad and select Properties>Security>Advanced>Change Permissions>Add>type 'Everyone'>Choose 'Deny'>Ok>Ok.
Well that will make you work on current Skype version and you will now be not forced to update it.