Checkout the best Android smartphone under Rs 2,000 available in India.
Rs 5,000, then Rs 4,000 then came various smartphone breaking through Rs 3,000 price tag. Last year I thought smartphone can't be available at Rs 2,000 but in the same year, many OEMs proved me wrong. Now you can get Android smartphone at price of Rs 2,000 or even lower. That's $30 and that's kind of revolution. You can get Android powered handset at Rs 1700 as well and so we have come up with the list of Best Android phone under Rs 2,000 in India.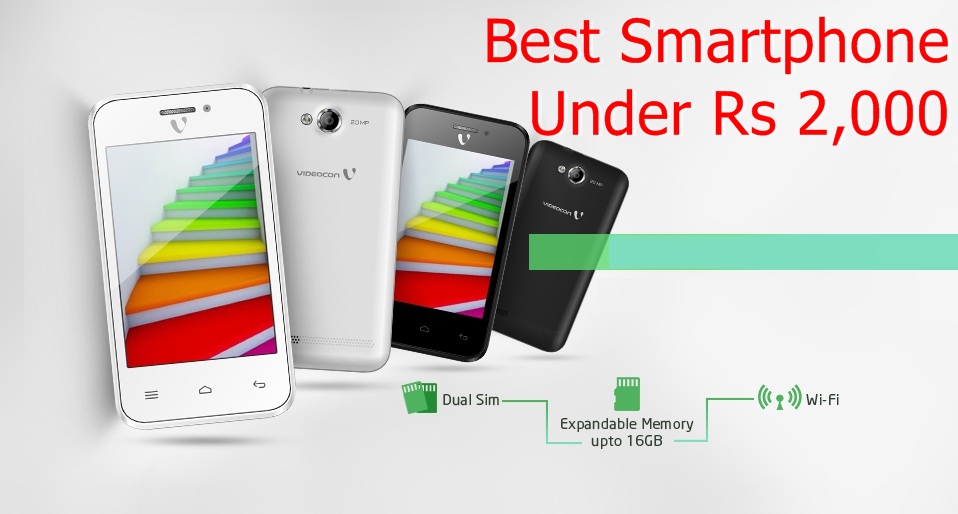 Best Android Smartphone Under Rs 2,000
The following are the Android smartphones available under Rs 2,000 in India –
T-Max Butterfly
T-Max Butterfly smartphone is now available in India at Rs 1,999. It's very simple, affordable and easy to use handset. Featuring 4 inch display, Android 4.4.2, 1 GHz processor, dual SIM connectivity, negligible internal storage with micro SD card is now available at Rs 1,999.

It's the best phone at Rs 2K that we can recommended. Just hit the Flipkart banner below to buy it.

Videocon Z30 Pace
Featuring 3.5 inch 320 x 480 display, 1250 mAh battery, 2 mega pixel rear camera, 512 MB RAM, 16 GB micro SD card support, 1 Ghz single core processor, 256 MB ROM, VGA front camera. It's priced at Rs 1895.
Karbonn A10
Karbonn A10 A104 features 2.4 inch 320 x 240 pixels display, 1100 mAh battery, 2 MP rear camera, 256 MB RAM, 256 MB internal storage + micro SD card slot, Android 4.2 Jelly Bean, 1 Ghz processor.
Karbonn A10 is priced at Rs 1899 and available from Flipkart.

Videocon Infinium Zest Flame
Yet another Videocon phone makes it to the list. Maybe this is what Videocon targeting? The Videocon Infinium Zest Flame features 3.5 inch display, 1400 mAh battery, 2 MP camera and 0.3 MP front camera and runs on Android 4.2 Jelly Bean.
You can connect to be on Google+, Facebook and Twitter if you need smartphone advice but let me know your requirements like screen size, interested features required and importantly maximum price that you can afford.
This post was last modified on May 30, 2018 10:59 AM