Check the Google Nexus 6 all details like launch date, price, specs, features, rumors and back fence talks as it happens.
Close to heels of Nexus 5 come rumors of Google readying its next smartphone package- the Google Nexus 6. Concept of this phone has been talked about for a year now and we have several strong speculations on how Nexus 6 will feel to hold and perform. Concept analysts have gone bold with design speculations of Nexus 6 and feel it could introduce the next Android update, the Android 5.0 Lollipop or go even further offering Android 6.0 Milkshake. All the rumors turned out to be true as the new Google Nexus 6 made by Motorola is now official with Android 5.0 Lollipop as the newest Android version in town.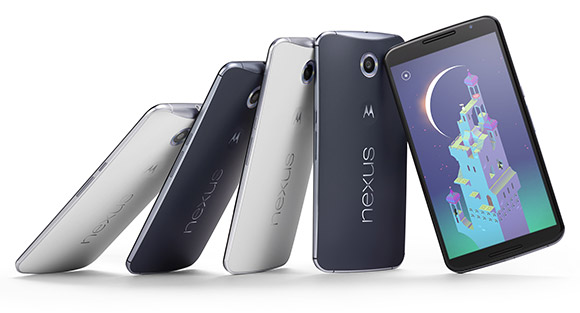 Looks & Display
Nexus 6 poses a massive 6 inch screen with Super AMOLED Plus edge-to-edge display providing 493 ppi pixel density. Some analysts feel it's too early for Google to go 6+ inches yet but Nexus 6 has gone down the wire and introduce this mini-tablet.
Also Read – Google Nexus 10 2013 leaked photo
Camera & Processor
The Nexus 6 processor are a 6-core Qualcomm Snapdragon 805 processor. There's little debate that we shall get a front wide-angled 2 MP and a rear 8 MP camera with optical stabilization(minimum) but Nexus 6 is with 13 mega pixel IMX 214 Image Sensor, f / 2.0 aperture, Optical Image Stabilization, Ring flash with dual LEDs, 4K UHD video capture(2160p (4K) UHD, 1080p HD and 720p HD video capture modes at 30fps), 4X digital zoom, HDR+Panorama, PhotoSphere and Lens Blur​ features will give it a nice fitting since Galaxy Note 4, Galaxy S4, Xperia Z all have those high-end specs when it comes to camera i.e., should be able to record 1080p full HD videos.
Features
Nexus 6 will deliver hi-end components and HDMI audio-video inputs. It has 3GB RAM, GSM/ GPRS, wireless charging, a 1280 x 768 pixels display, accelerometer, ambient light and spatial tracking sensor amid other things. They offer huge internal storage of 32 GB and 64 GB so that the people doesn't have to go for external memory card.
Launch Date, Pricing

It was a full year before Google launched Nexus 5 but things speed up and work out design update to be incorporated in Nexus 6 for within 1 year launch for successor model. Since Nexus 5 has shown the optimal value for its price of $349 (16 GB), Nexus 6 is priced higher with pricing said to be $569 for 32 GB model and $649 for the 64 GB variant.
This post was last modified on March 26, 2018 10:24 AM