And here comes the official statement from the house of Apple as Cupertino tech giant has officially announced list of 10 best paid iPhone Apps of 2015. Not only that, company also revealed top 10 things on various niche which includes top 10 free apps, top paid iPad apps, top free iPad Apps and top 10 games of the year on iOS platform. More of it's like an yearly award for apps on App Store.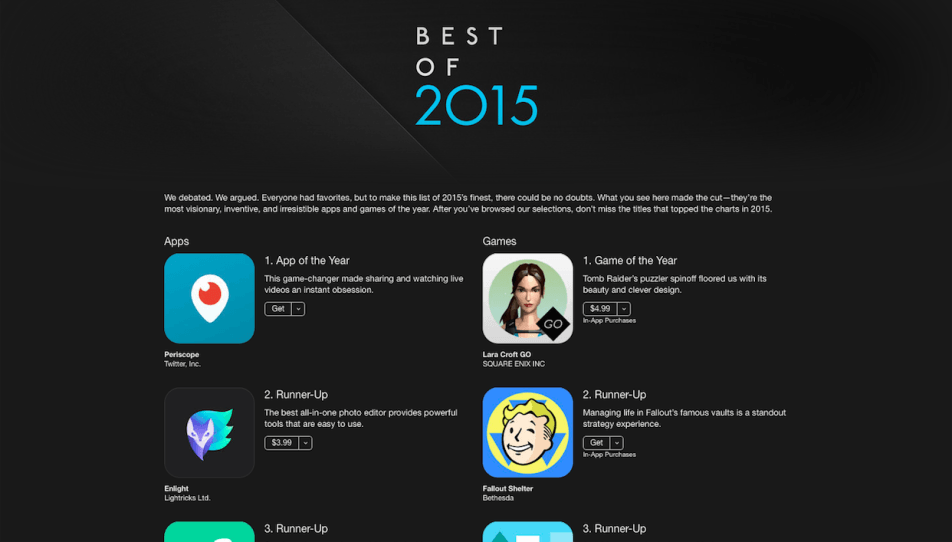 A couple of days back, Apple also released best Apple TV apps.
Advertisements
Best Paid iPhone Apps
You might be looking to find information on what most people are doing on iPhone, here is the official statement which list out top 10 paid apps that iPhone users purchased. This list is specific for purchases made until December and it turned out to be Heads Up as the winner followed with Minecraft: Pocket Edition. Dark Echo was named as innovative game of the year.
Apple's top paid iPhone apps are –

Advertisements
Heads Up!
Minecraft: Pocket Edition
Trivia Crack (Ad Free)
Five Nights at Freddy's 2
Facetune
Geometry Dash
Five Nights at Freddy's
Afterlight
Plague Inc.
Goat Simulator
Interestingly, the iPhone 6S which comes with 3D Touch had Warhammer 40,000: Freeblade winning in the 'best Game for iPhone 6S' award.