The problem with wired charges is that they easily get twisted and sometimes they even get cut leading to the non-functionality of the Apple lightning cable. On YouTube, you can find videos to repair lightening cable but believe me that's not an easy job. The Docking stations for one or the other reasons extend the life of your iPhone lightning cable and maybe that's the main reason why you should get a docking station for iPhone SE smartphone as early as possible.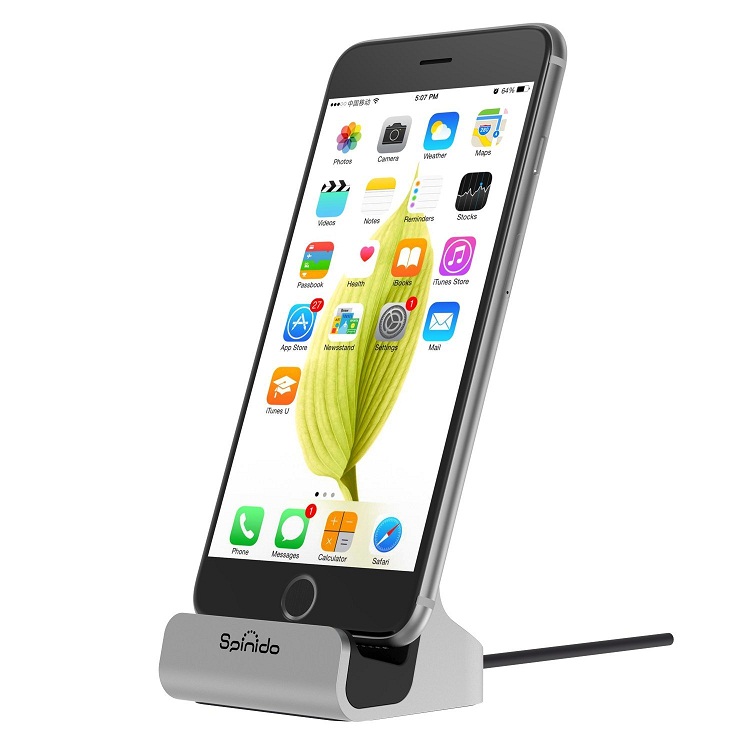 You can place the docking station in any horizontal space and charge your handset. Be it office or garden or bedroom or kitchen the docking stations are very useful accessories for iPhone and we do recommend you if you have purchased iPhone SE. A lot of them are available on Amazon.com but we have fine-tuned them to show only iPhone SE compatible dock stations.
Best Docking Stations for iPhone SE
The following are our choice –
Spinido for iPhone SE
Spinido Ti-Set is a small, beautiful-looking docking station that can be adjusted for compatibility not only for iPhone SE but also for iPhone 6S, iPad Mini, Galaxy Tab and Galaxy S6 phone. Costing $39.99, it's sold on Amazon.com and we have included a direct link to the product over here.It's made of aerostatic aluminum material and has an adjustable nob on the back so as to make it compatible with other iPhone models.
Shrmia Docking Station
Bring home or add a touch of nature with a Shrmia docking station for iPhone SE or any other iPhone model. It's made of natural bamboo wood and can hold both iPhone and Apple Watch [38 mm and 42 mm] together.
This docking station comes with simple yet aesthetic design to bring ease of use. It's might be a decent gifting idea for someone who possesses 2016's latest & upgraded 4 Inch iPhone.
MoKo iPhone SE Docking Station
Currently priced at just $11.99(discounted from the original $29.99 price), the MoKo dock for iPhone and Apple Watch is a portable stylish stand. Charging both Apple Watch and iPhone SE, the device provides comfortable viewing angles to use the smartphone alongside charging it.
NazTech Docking Station for iPhone SE
With Naztech docking station charging your iPhone SE or any other iDevice gets easier. It's very compatible and light-weight, we were surprised to see it's size. Tilting to a certain angle, provides a comfortable viewing angle.

Also Read – iPhone SE vs iPhone 5S Comparison
Belkin iPhone SE Docking Station
Belkin is a popular brand and they are not just into the Wi-Fi router business but also they have various iPhone accessories to sell in United States. The Belkin's iPhone SE dock station costs $20.
Which of these iPhone SE docking station are you using?
This post was last modified on March 21, 2021 10:18 AM