Photo editing through artificial intelligence is growing in popularity. Every maker is now targeting mobile devices via apps. One of the hottest photo editing apps this month – Prisma was released for iOS and Android, just a week back and now Microsoft announced Pix for iPhone. So here we check out what we have with the Microsoft Pix for iPhone, iPad and iPod Touch.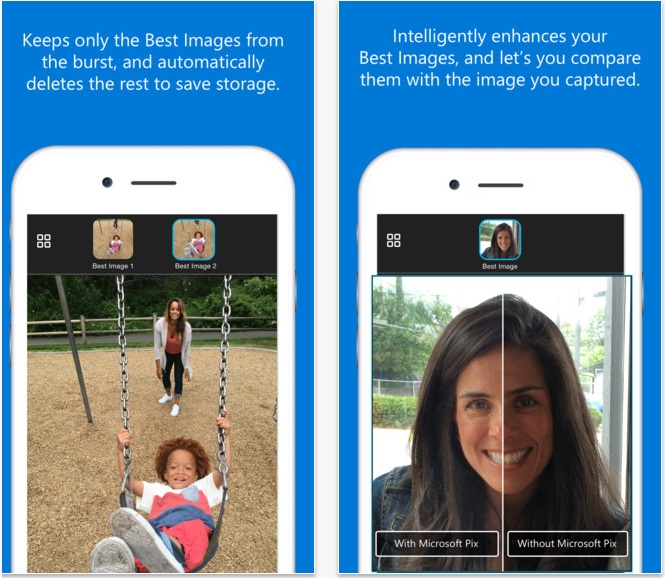 Microsoft Pix for iPhone
Microsoft Pix app is basically stock iPhone camera replacement which comes with lot of filters and customization. Using intelligent technology behind the lens, the app automatically tweaks settings for each shot that you take. Unlike iPhone camera for which you need to changes settings, the Pix automatically analyzes the scene and lighting with each shutter tap and gives you the best shot.
Microsoft representative during the launch said that "Person's face is photos is quite important. Most of the photos aren't good because of the face movement or due to wrong settings/lighting. The Microsoft PIX is a solution to it".
So, you might be questioning, how can I take live Photos if I have iPhone 6S or higher model? Microsoft has a solution for that, the Pix Live Images. This feature combines series of burst images and makes it as a looping video. You can even take Hyperlapse videos which in editing can be time-lapsed and also includes customized playback speed.
Micromax PIX Features
Automatically adjusts scenes, shooting mode and lighting.
Stabilize and time lapse your videos.
Auto sync all the photos & videos to camera roll.
You can make use of iOS sharing to share the photos/videos that you love.
Comes with built-in live photos.
Face recognition technology automatically optimizes face settings.
Compatibility
Microsoft PIX currently supports limited number of iPhone, iPad and iPod models. It works good on iPhone 6S, 6S Plus, iPhone 6, 6 Plus [confirmed]. Compatibility on other devices is yet to be confirmed. We tried installing this app on iPhone 5C but we got Cannot download error which further explains that "This app is not compatible with your device.".
Microsoft Pix App Store Link
This post was last modified on April 19, 2020 8:21 AM