Game lovers are ought to take interest in some fascinating and brilliantly designed games for iPhone that are available in the App Store. These iOS games are varied in terms of graphics, features, style and regular updates with real sense of play which will keep you engaged in free time. After going through collection of 10 best iPhone bike racing games, here we are with best iPhone car racing games that interest us for the 2021 collection.
Best iPhone Car Racing Games
Here are the 10 most loved and best car racing games for your favorite iPhone and does work good on all iPhone including iPhone 6, iPhone 6 Plus, iPhone 5S, 5C, 5 and other models. Some of these games are optimized for iPad as well, so they does support all iPad models too.
Here are some of them –
Real Racing 3
Real Racing 3 is definitely the best iPhone bike racing game but it might not be compatible with iPhone 5C or any other iPhone model which has low internal memory. Sized around 1.47 GB, you can call it as the best iPhone HD game.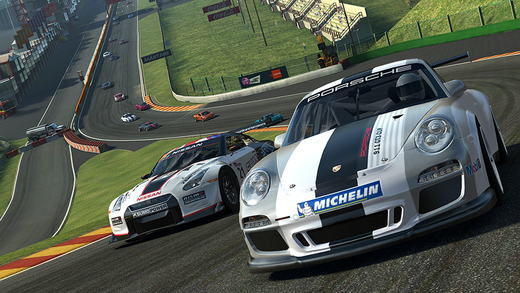 You will find best and high-performance real cars from the global manufacturers like Bugati, Porsche, Ferrari and Mercedes that will run on real tracks with inclusion of excellent features such as TSM technology, time trials, real time multiplayer, ghost challenges and social leaderboards.
Asphalt 8: Airborne for iPhone

It can be usually considered as the best item from the racing series of Gameloft with touch of arcade edge, boost powers and faster processing. All new Asphalt 8 Airborne is packed with 56 new cars, 9 different locations, 8 seasons and several career modes.It's a multiplayer game supporting up to 8 players in action.
Download Asphalt 8 for iPhone
Sonic & Sega All-Stars Racing for iPhone

Offering single and multi-player play, this car racing game has a point to prove on iPhone with weapon-based business where winning is only the mission and essence of fun.
Download Sonic & Sega All Stars Racing
Need for Speed: Most Wanted for iPhone

Time has come to enjoy this game by playing full-car damage racing game where you strike anyone on the street because it is a no-brake game. Customize game options with mind blowing visuals and graphics to choose the most wanted to chase for!
Download NFS for iPhone
Speed Night for iPhone

With beautiful props of stealth, life and magnet, this game simply offers player opportunity to unlock new cars by collecting gold coins.
Download Speed Night game
DrawRace 2 for iPhone

Touchscreen devices offer a different level of ease to draw paths or line for racing and your car will beat others in a flash. Yes, this very is game is totally different, unique and challenging in nature.
Their iTunes description reads 'awarded as the best sports games of 2012'.
Download DrawRace 2 for iPhone
Slingshot Racing iOS game

There are no brake or steering controls here but what keeps you innovative is the idea of launching slingshot from the hook to race on typical and difficult curves.
Download Slingshot Racing game
Reckless Racing 2 iOS game

Overhead camera will see the racing actions that are usually off the path and dirty streets full of dirt. It offers classic presentation with multiplayer races and unique racing experience.
Download Reckless Racing
Death Rally for iPhone

Players can enjoy this violent game while fighting against enemies with gun fire on desert tracks and typical urban streets which sometimes offer you a slight touch of future.
Download Death Rally Racing
Endless Road for iPhone

Simply drive to the maximum distance covered and roads will be generated with crests and highs to offer you full enjoyment along with the deadly obstacles and excellent soundtrack.
Download Endless Road for iPhone
So these some of the best racing games for cars on iPhone. Do let us know which game you regularly play?
This post was last modified on January 17, 2021 7:05 AM