It's new and gives competition to the proximity features of NFC thanks to popularity of Mediatek chipset. Hotknot is the  technology is set to be incorporated into Chinese-made smartphones. If things go as predicted it would add a strong feature to low-priced smartphone devices offering the features and capabilities of NFC albeit in a lower budget.
NFC vs Hotknot
So how does Hotknot fare in delivering proximity features? For one it doesn't need any antenna or a RF-communication chip for functioning.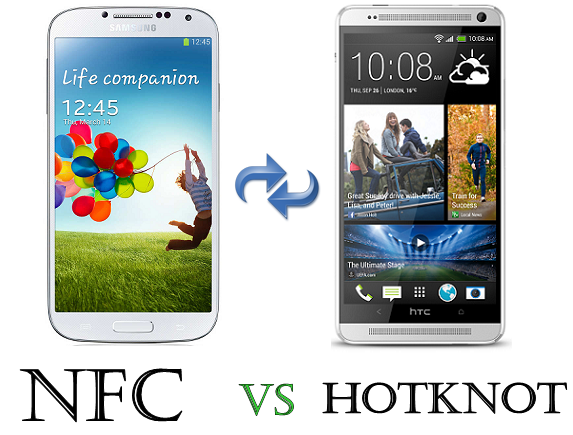 For another the technology enables running of proximity-touch functions by using the latest and new-gen driver ICs that are imbued with capacitor touch. This technology is specifically designed for using with touch screens and so really sleek.
HotKnot: What It Uses
If you look at Hotknot more intensely, Hotknot uses a chip which is touch sensor, for sending communication protocols and also has the G-sensor or gravity sensor for ensuring actual contact and the P-sensor or proximity sensor which detects the presence of any objects that are located close by. Overall Hotknot can detect objects and verify the closeness of two objects. It seems clear that by introducing Hotknot MediaTek plans to give tough competition to NFC devices.
Hotknot: Plans To Take a Global Presence?
HaoJung Li, MediaTek's product marketing manager for wireless communication business section reiterated the company's stance. Comparing NFC with Hotknot he explained that Hotknot can also perform the same functions as NFC. A sure signal that the company is keen to take on a bigger role in the global smartphone market and for this it is working into bringing up better technology to offer better specs and drive into newer technologies.
Which Is Better?
While both Hotknot and NFC have nearly the same functions NFC has been around longer. NFC reigns over the global market where it is being used over a wide range of applications that includes identification cards, mobile payments etc. Despite this reach it has rather been slow in penetrating the smartphone market which is why the use of NFC still remains limited to certain extent in smartphone devices.
The Plus Points
Now that Hotknot is here MediaTek is sure to cash in on its utility but the approach for introducing and market penetration could be gradual. Hotknot will start with the smartphone sector in China where MediaTek already has a good stronghold. Initially its use would be limited to pairing of devices. As of now NFC is incorporated only in 10 percent of the smartphone devices being sold in China. With MediaTek planning to interate Hotknot with smartphones without any additional burden on the buyer it will improve the smartphone technology in a remarkable way. Hotknot will be used for improving the 'fun' part of physical touch associated with smartphones promoting capabilities like pairing of everything including TVs, phones, tablets and wearable devices.