Google announces Android 4.4 KitKat with celebration of 1 billion user activation. Check update schedule for various phone brands.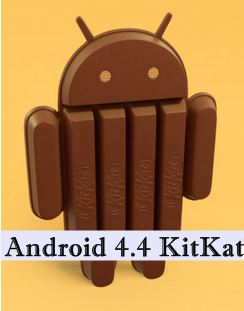 This is an old article, pick by random publication with updated details on where Android 4.4 Kitkat stands right now.
Android 4.4 Kitkat is now running on 40% Android devices, the highest. It was update with latest Android 5.0 Lollipop in November 2014 and then Android 5.1 in March 2015.
In a grand way to celebrate 1 billion smartphones and tablets activation, Google Android team has officially teased next version of Android to be KitKat 4.4. Infact this further delays the launch of much awaited Android 5.0 Lollipop mayn't be launched since the dessert name with letter "K" is taken by KitKat for Android 4.4. John Lagerling, director of Android global partnerships said that there are only few people who know the taste of Key Lime Pie and the decision to move away from KLP after mentioning in the internal documents came up late last year.
Android 4.4 KitKat
Interestingly, Sundar Pichai and Google team got blessing from Nestle, Swiss based KitKat Chocolate maker to come out with "fun and unexpected" idea for both companies marketing. Until now Google has only used generic name of dessert to name their Android version but this one is directly the name of popular selling chocolate bar in the world.
Also Read - Android 4.4 Kitkat Update Schedule
Calling it as a no money deal, Nestle in turn will sell more than 50 million chocolates featuring Android mascot on it in all markets worldwide including UK, US, Brazil, India, Japan and Russia. Plus there are some Nexus 7 tablets to be won.
The previous versions of Android were the names of desserts like Android Cupcake (1.5), Donut (1.6), Eclair (2.0), Froyo (2.2), Gingerbread (2.3), Honeycomb (3.0), Ice Cream Sandwich (4.0), and Jelly Bean (4.1-4.3).
Coincidentally Android team has also set up 4.4 KitKat page on Android.com.