ACT Fibernet is an Internet service provider providing the services across Andhra Pradesh, Karnataka, Tamil Nadu and Telangana states. The users are happy with the Internet speed; however, no one can deny the fact that it forces the users to login with them in their portal every day to access the internet service. While this is not a major issue, but it is annoying visiting the portal everyday and login to use their service.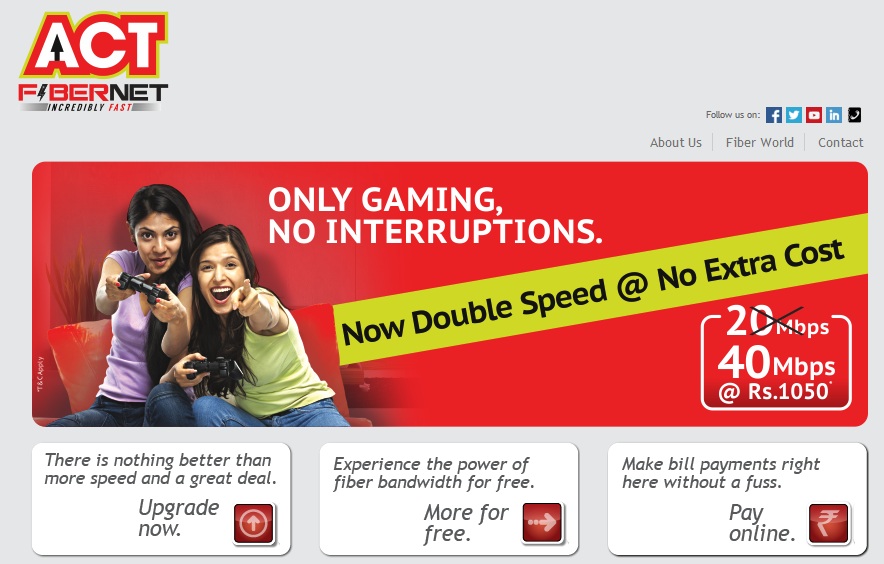 ACT Fibernet Auto Login
It's not always possible to remember long username and password. If you are looking for a method where you can bypass the login method and allows you to use the ACT Fibernet directly, then this article is helpful for you.
All those who are quite offended by the same process can now skip the login process and access the Internet services directly. Different brands of Wi-Fi router provide their different settings.
Every user has their different brands of WiFi router, but this article provides with the important settings that can be configured on all types of routers. For this you need to perform the PPPoe settings on your WiFi router.
Look for the below PPPoe configuration settings for any type of WiFi router you are using:
The foremost step is to log out of your ACT account. It is really mandatory to completely log out else the PPPoe configuration settings won't work.
Login to your WiFi router and go the option where you perform WiFi internet connection settings. This can be a WAN Connection/Internet Connection /ISP Connection Type etc. depending on your router type. For NetGear its under Advance > Setup > Internet Setup.
Change your default 'Dynamic Connection' to 'PPPoe'. For Netgear select Does your Internet Connection require a login and then click on Yes.
Now enter your ACT Fibernet login credentials in the given fields.
Leave 'Service Name' field blank.
Set the 'MTU' to 1454.
Once done, click on 'Save' or Apply button to save the details.
After changing the router settings, your router will be restarted. After it gets on, then visit Portal.actcorp.in check if you have automatically logged in.
Upcoming Smartphones : Galaxy S8 | iPhone 8
Advertisements
If still you are not able to login automatically or the page is not loaded, then again log out completely from the screen and perform the settings mentioned above.