Android 5.0 Lollipop is everywhere. Right from material design on most of the popular apps, people running Jelly Bean or Kitkat wants to get hands-on with Lollipop apps, widgets. Here comes WhatsApp Plus Lollipop theme which is our view is the best from all those available right now.
WhatsApp Plus Lollipop Theme
The theme named as Flamingo developed by Thijs Oost is almost close to best WhatsApp Plus Android 5.0 Themes. Flamingo theme is inspired by Google Material Design guidelines and Liv- CM/PA Theme. It's available in three different variants of –
Dark color theme
Solid – Mix of Pink and Orange theme colors
Light color theme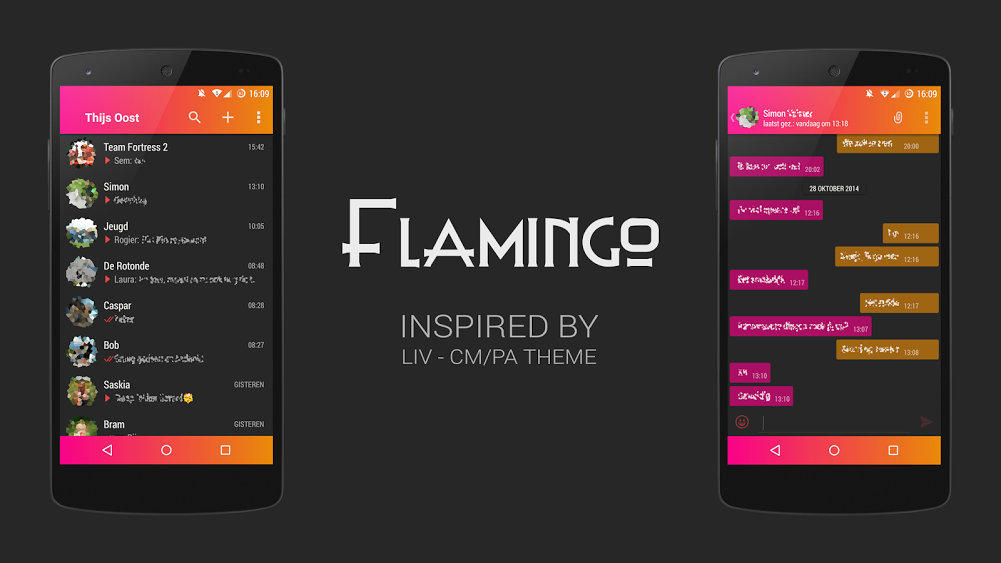 So with all the Android apps going with material design, whynot have your WhatsApp Messenger client with material design.
How to Install
Using the WhatsApp+ theme store, follow these instructions –
Open WhatsApp+ on your phone.
Open the WhatsApp+ settings.
Go to 'Download' under 'Themes'.
Search for 'thijsoost_flamingo'.
Confirm with 'APPLY'.
Using XML File
Download the WhatsApp Plus Lollipop Theme Dark [Light].
Save the .xml file on your phone.
Open WhatsApp+.
Open the WhatsApp+ settings.
Go to 'More' under 'Themes'.
Choose 'Load' and open the .xml file.
Confirm with YES.
Share and let your friends know about this beautiful WhatsApp+ Theme.